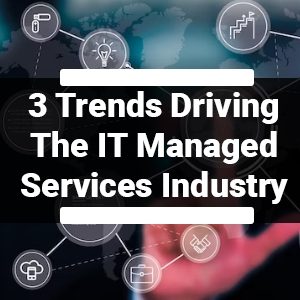 Technology has advanced significantly in the last ten years, and organizations have struggled to stay up. But they must comply. After all, utilizing new tools and technologies while ensuring that their IT infrastructure is ready for such demand is essential for businesses to run smoothly, maximize earnings, and maintain their competitiveness in their industry.
However, managing them can quickly become burdensome for small and mid-sized firms without an IT staff. Here, outsourcing IT services on Long Island, NY, has shown to be helpful. The critical activities of monitoring and maintaining IT systems, including networks, servers, workstations, etc.; installing and upgrading software; maintaining hardware; managing security and compliance are all undertaken by managed services providers (MSPs). Additionally, MSP services are growing along with technology.
In this article, we'll examine some of the most recent developments in IT-managed services, such as the application of new technologies like AI and automation, the increasing significance of cybersecurity, and the development of cloud-based services.
1) Outsourcing
Most large corporations have concluded that an internal digital transformation team needs independent help. However, keeping up with the constant changes in the digital industry is rather pricey. Additionally, most small enterprises need help to retain giant corporations' internal support services. As a result, outsourcing managed IT services on Long Island, NY, has emerged as the top managed service provider growing industry.
Despite the threat that data security problems will continue to present, 78 percent of businesses worldwide are confident in their outsourcing relationship companies. The term "Managed Service Provider" (MSP) is still widely used in the industry. MSPs might thus use outsourcing to seize a sizable market share.
2) Security
Enterprises can quickly protect their data with top-managed IT support services on Long Island. They provide whole cyber security solutions and on-site services to help businesses strengthen their security posture, install new security controls, adopt mobile solutions, etc.
Managed service providers safeguard your data, and the system they create can be controlled by a different party in case something goes wrong. Additionally, it means that businesses can solve any problems with the service offered by the provider without the need for repeated work on the client's part to find the source of the problem and incur the resulting costs.
3) Cloud
The cloud computing industry has impacted every area of the IT sector. It's growing in popularity daily as even the smallest businesses aspire to be known worldwide. Furthermore, the cloud is the only way to provide managed services from anywhere.
Cloud technology is already being utilized to build new platforms to accelerate the digital revolution and benefit organizations in many ways. However, most businesses need more available talent and robust internal infrastructure to move their operations to cloud platforms. Nevertheless, companies can employ this technology effectively and affordably in their operations with the aid of managed service providers.
Conclusion!!
Managed services are expanding quickly around the world. As a result, more and more businesses are implementing MSP services to connect clients in new ways and generate fresh leads and business prospects. As a result, new service providers are on the rise; they emphasize improving an already-strong product or service and assisting a business to expand and become more powerful.
The agility offered by modern technologies is if there is one thing they excel at. One of the critical qualities that businesses look for in an IT-managed service provider is the organization's capacity to respond swiftly to shifting demands and requirements for employees, software, networks, hardware, and other resources. Modern technology also makes peer-to-peer networking between employees and cloud infrastructure possible. It also enables automating administration, administering large-scale settings, and managing.
Tags: Business IT Support Long Island, IT Company Long Island, IT Managed Service Provider Long Island, IT Services Company Long Island, IT Services Long Island, IT Support Company Long Island, IT Support Services Long Island, Managed IT Services Long Island